Pre-owned
Custom Offshore Racer German Frers
---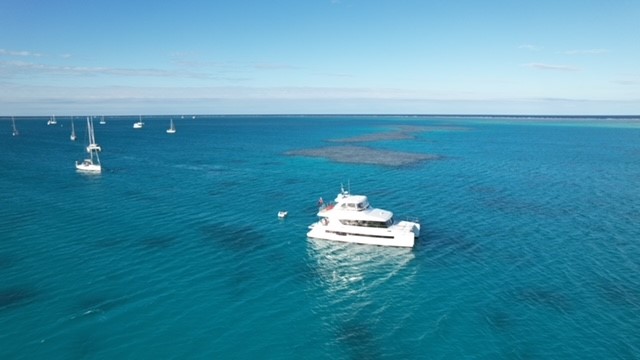 NEW_LISTING

Expressions $


Tax Paid, Australia

Location
Appointment Only
Builder
Kelly and Laugh Boat Builders Sydney, Australia
Designer
German Frers
1979 Maxi Yacht 73-footer | Bumblebee 4
One of Australia's most famous maxi yachts, Bumblebee 4 was designed by German Frers and built in Monavale, launched in 1979 just in time to take line honors in that year's Sydney to Hobart race. Her revolutionary design and aluminum construction was state-of-the-art for the era and produced decades of stunning performances in prestigious regattas.
After her first win, the yacht was shipped to the United States where she continued to impress, being first over the line in the 1980 Newport to Bermuda race. Bumblebee 4 stayed overseas, racing on America's east coast and also in the Med competing at the Maxi World Championships in St Tropez.
Ocean racing legend Syd Fischer purchased her in 1983/84, bringing her back to Australia to compete in the inaugural Hamilton Island Race Week in 1984. Her accolades continued, finishing third in the 1985 Sydney to Hobart, second in 1988 and 1989, then controversially taking line honors in the 1990 regatta when Rothmans was penalised for breaching the rules. Bumbleebee 4 retired from racing in 1994 and worked as a day charter boat in the Whitsundays until 2013.
In 2013, her new owners resumed her racing career, entering the yacht in the 2014/15 Hamilton Island Race Weeks and the 2015 Sydney to Hobart regatta.
In 2017, Bumblebee 4 was purchased by a local Queensland syndicate and she underwent a substantial refit in preparation for the 2018 Brisbane to Gladstone Yacht Race. She also competed in the 2018 Hamilton island Race Weeks as well as winning her division in the 2018 Airlie Beach Race Week.
In 2019, 'The Bee' headed north to compete in the 2019 northern regatta circuit, with a view to competing in the 75th Sydney to Hobart race and celebrate 40 years since Bumblebee 4 first won the prestigious event. Bumblebee 4 continued to race at Hamilton Island Race Week right up until 2023.
For yachting history buffs, there is an interesting link between Bumblebee 4 and the towering mast on the flag deck of Hamilton Island Yacht Club. It was originally Bumblebee 4's mast, which broke when the yacht was racing off Sydney many years ago. To minimise the risk of damage to the yacht, it was cut away and allowed to sink. After being salvaged and repaired, it was purchased by Hamilton Island's owners, the Oatley family, so it could become the impressive flag mast that it is today at the yacht club.
Bumblebee 4 is now offered for reluctant sale and is an exceptional opportunity to acquire a superb racing yacht with a remarkable pedigree and proven performance.
Contact The Yacht Sales Co team for further information and to arrange an inspection.