Our Yacht Sales Team New Zealand
Dominic Lowe, General Manager New Zealand
---
New Zealand boating enthusiasts now have a powerhouse team to look after all their boating needs after The Yacht Sales Co. announced it has joined forces with Ocean Time. The move, in conjunction with sister company Multihull Solutions, creates the region's finest collaboration of sail and power experts to assist with all new and pre-owned boating needs.
Helmed by Dominic Lowe (right), Dominic brings over 24 years of experience to the team plus the addition of his very successful brokerage Ocean Time. Dominic will continue as the new entity's NZ General Manager. His knowledge of both power and sail vessels is unmatched, and he has extensive experience across the sales, service and technical aspects of the industry.
Bryn Jensen, Sales Consultant - New Zealand
---
Raised on the edge of the sea, Bryn spent his childhood in sea scouts and racing dinghies, graduating to owning and sailing a range of yachts of all sizes. He has extensive blue-water and coastal sailing experience and is also a sailing coach who loves nothing more than "seeing people appreciate that moment when the motor is shut off and they experience sailing for the first time."
Bryn now enjoys sailing his 1976 Moody 54 and lives in Whangamata on the Coromandel of New Zealand, perfectly located between Auckland and Tauranga for boating hubs. His experience and skills makes Bryn the perfect person to help you with all your boating needs.
Ross Brownlie, Service Manager - New Zealand
---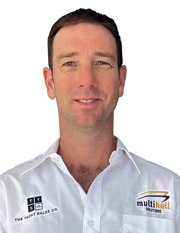 For as long as he can remember, Ross has had an affinity with sailing and he raced dinghies of all shapes and sizes from his childhood yacht club in Gisborne, New Zealand. Upon completing school, he undertook a five-year boat-building apprenticeship where he acquired advanced skills in construction and refitting.
He transferred his talents to the building industry working on high-end residential renovations, which allowed him to travel the world. During his adventures, he spent several years as a deckhand aboard a 147ft superyacht, sailing primarily around the Caribbean and the United States east coast before returning to New Zealand.
Once home, he purchased a yacht and spent time exploring the region's magnificent cruising areas, including the Hauraki Gulf, Bay of Islands and Coromandel. Ross has been working for Gulf Harbour Marina for the past seven years, starting as dockmaster and working his way up the ladder to maintenance manager and project manager.
When he is not spending time with his two children or sailing, Ross can be found kitesurfing, bushwalking, cycling and generally enjoying the great outdoors.