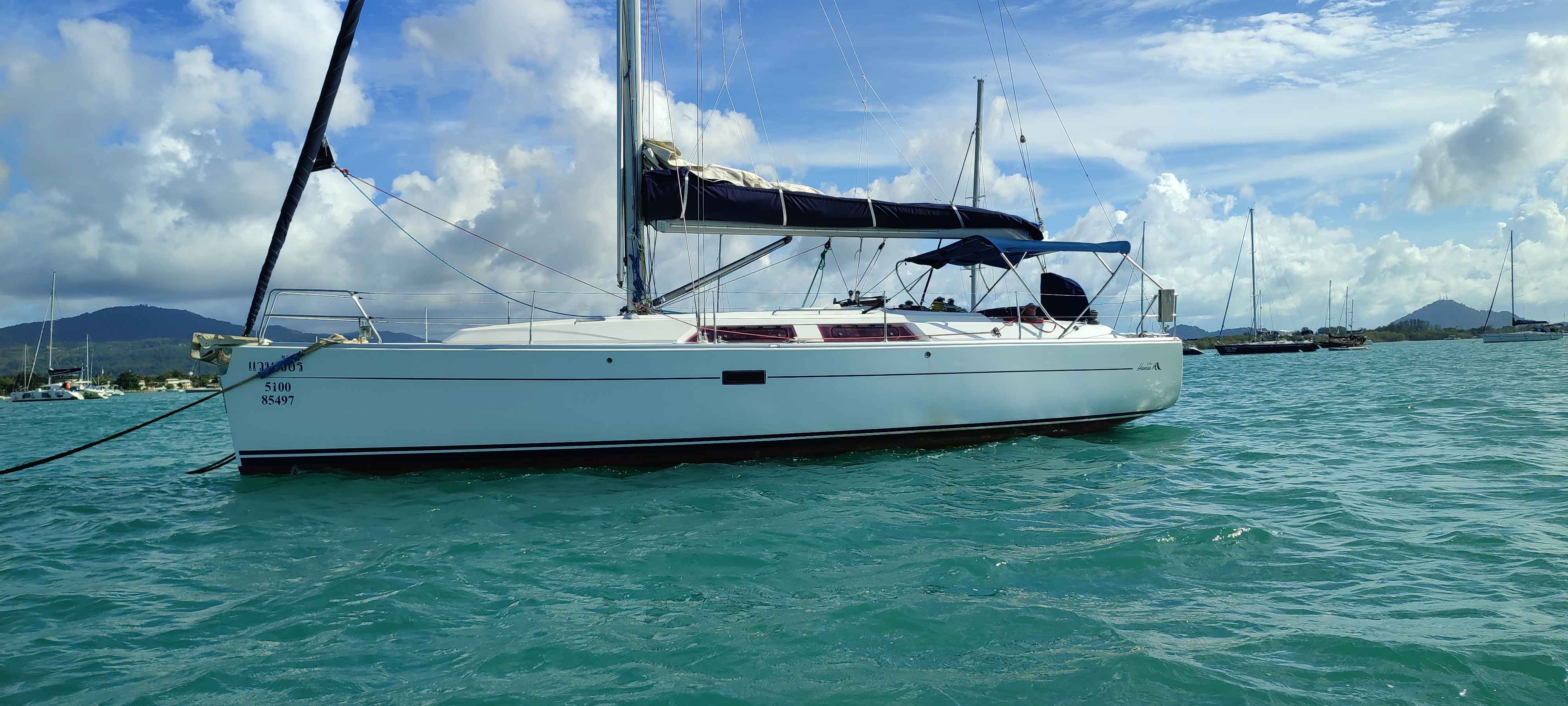 USD $125,000


Tax Paid, Thailand

Location
Phuket, TH
Builder
Hanse
Designer
Judel and Vrolijk
2009 Hanse 400e | Venture
Venture is a meticulously designed sailing yacht that effortlessly blends performance, comfort, and style. The Hanse 400e is renowned for its German engineering and craftsmanship, and this vessel is a testament to Hanse's commitment to producing sailing yachts that cater to both seasoned sailors and those seeking the thrill of the open water.
Measuring 40 feet in length, the Hanse 400e boasts sleek lines and a contemporary profile, ensuring a striking presence both at the marina and while out on the open sea. The yacht's clean deck layout showcases an emphasis on functionality and ease of handling, making it an ideal choice for single-handed or short-handed sailing.
One of the standout features of the Hanse 400e is its spacious and ergonomic cockpit, designed to facilitate comfortable cruising and entertaining. The single helm station offer excellent visibility and control, allowing the skipper to navigate with confidence. Ample seating and strategically placed winches provide effortless sail management, enhancing the overall sailing experience.
Below deck, the Hanse 400e exudes a sense of refined luxury. The interior is bathed in natural light, courtesy of large hull windows and hatches. The intelligent layout maximizes space, with a well-appointed saloon that includes a spacious dining area and a well-equipped galley. High-quality finishes and materials create an atmosphere of modern elegance, ensuring a comfortable stay whether at anchor or in a marina.
The forward master cabin offers a generous berth, ample storage, and an ensuite bathroom for privacy and convenience. Additional cabins situated aft provide cozy sleeping quarters for guests or family members, maintaining the vessel's ethos of combining practicality with comfort.
Under sail, the Hanse 400e truly shines. Its efficient hull design and sail plan enable impressive performance, making it a joy to sail in various wind conditions. Whether on a leisurely coastal cruise or participating in competitive racing, the yacht's responsive handling and balanced manoeuvrability ensure an exhilarating experience.
Venture encapsulates the essence of modern sailing excellence. From its sleek exterior lines to its thoughtfully designed interior, this yacht offers an exceptional balance of aesthetics, performance, and comfort. Whether you're a seasoned sailor or new to the world of sailing, the Hanse 400e beckons with its promise of unforgettable adventures on the open water.
Contact the team to arrange an inspection.
Specifications
---
Light Displacement
7,900 Kgs
Bathrooms
1 Shower and 1 Manual Head