Our Yacht Sales Team Tahiti
The Yacht Sales Co | Tahiti Team
---
Throughout the stunning archipelago of French Polynesia, our sales representatives are available to assist with all your yacht queries including sales, service and general advice.
Gilles​ Haudrechy, Tahiti Agent
---
Born in France, Gilles started sailing aboard a little Optimist at the tender age of seven. He moved to the UK when he was 18 where he managed restaurants and nightclubs while honing his English. A holiday to Egypt in his mid-twenties saw Gillies reignite his love of the ocean, and he relocated to the Middle East to become a professional diver aboard a luxury yacht. Over the next three years, he made around 3000 dives in the Red Sea and gained invaluable experience in managing high-end luxury yachts. In 2008, he crossed the world from east to west where he settled in Tahiti and settled down with his private Bahia 46 boat charter operation. Gillies then went on to skipper a small superyacht until he joined The Yacht Sales Co team to share his extensive experience, knowledge and passion for the ocean with clients throughout beautiful French Polynesia.
Yann Duguet | Sales Consultant, Tahiti
---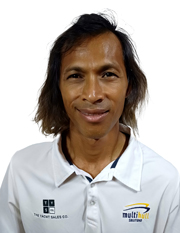 Yann was born in Madagascar to parents who owned a hotel by the sea, and his childhood was filled with the stories of passing sailors. At 11, he started sailing a canoe before graduating to his first sailboat at 16, which he used to offer excursions to the islands. When Yann was 18, he bought a sailboat in South Africa and the years that followed saw him skipper a variety of yachts across numerous oceans from the Atlantic to the Indian Ocean via the Mediterranean Sea and the Red Sea, as well as the Cape of Good Hope. Finally, he arrived from Europe in Polynesia with his family aboard his own monohull, on which he still lives. His 30 years of dealing with a vast assortment of yachts has given Yann remarkable skills and knowledge, which he has shared with clients in his various positions in technical service, delivery and boatkeeping. His experience is now a significant asset to The Yacht Sales Co as he helps other cruising enthusiasts turn their dreams into a reality.