Date of event: September 30 - October 2, 2023
Locale: Main Beach, Queensland
The Yacht Sales Co is delighted to be a major sponsor of the 2023 Sail Paradise offshore sailing regatta, hosted by the Southport Yacht Club.
Entries are open for the spectacular high summer sailing event, staged at Main Beach with courses set between Main Beach and the QLD/NSW border. A multi-day event with days of magnificent yacht racing will be held on the beautiful ocean waters off the Gold Coast's golden beaches allowing spectators on the shore to be enthralled by the closeness of the racing and the blaze of colour that will come from the yachts' many and varied spinnakers.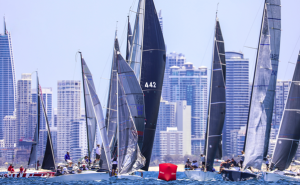 The festivities continue onshore with daily Race Results and Live Entertainment nightly at Southport Yacht Club's Main Beach Clubhouse where competitors and guests can also enjoy our Nightly Food and Beverage specials in our stunning Waterfront Restaurant and Bars.
Southport Yacht Club invite Gold Coast residents and visitors to visit the Club and enjoy the post-race fun during the regatta, including the opportunity to view the race yachts as they raft up each evening at the Club's new $9m Super Yacht Berth.
REGATTA ENTRY
"Early Bird" Race Entry Fee for the 2023 Bartercard Sail Paradise Regatta is $350 for all Divisions, entered and paid prior to midnight on July 31st 2023.
The Race Entry Fee for the 2023 Bartercard Sail Paradise Regatta for entries received and paid after 31st July 2023, up to including 15th September 2023 is $400 for all Divisions.
Entries received and paid after 15th September 2023 will incur an $85.00 late fee.
Entries shall be lodged with the Organising Authority no later than 1600 hours on 29th September 2023.
No entries will be permitted after this date.
EVENT LINKS
Sail Paradise 2023 Entry Form.